What is HamDash?
Whether you just want to make a few contacts or you have serious competition in mind, there's nothing like a contest to get you on the air! Radiosport offers a great opportunity to speedily connect with lots of fellow hams, enhance your operating skills, learn about propagation, demonstrate the ability of Amateur Radio, practice copying weak signals for emergency preparedness, accumulate lots of DX entities, states or sections in a hurry and discover the strengths and weaknesses of your station! That's more than enough incentive to enjoy the many fun radiosport events we can look forward to annually, but club contesting adds another great element – the team! When you contest with your club from your home station, every point that your station earns is added to the club's cumulative score, so everyone is pulling together to reach a common goal.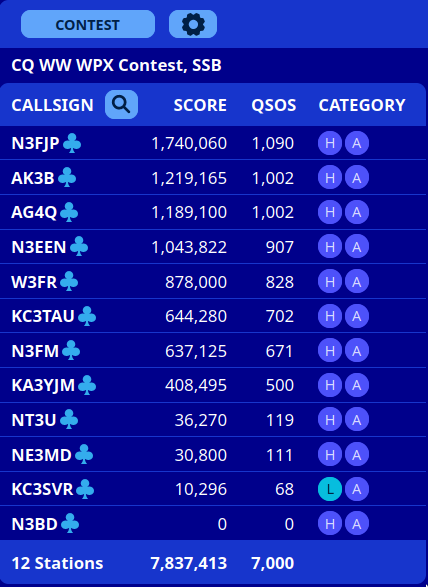 HamDash filtered for club members
HamDash is an exciting new platform for clubs, friends and individuals to enjoy contests together, as you each operate from home. Whether you are part of a group or a loan wolf, chasing a goal, a buddy or the guy just ahead, HamDash gives you immediate, useful feedback and plenty of fun incentives to keep you rolling in the contest chair. HamDash displays real-time scores throughout the contest and updates instantly as you enter each QSO. HamDash displays fun status graphics, a QSO feed of calls being worked, a leader board that can be easily filtered just for your buddies, category or club and instantly recognizes QSO milestone accomplishments!
HamDash during an active contests without filters
I've always loved contesting, but before I created HamDash's predecessor, Club Score Processor, I really missed sharing the experience on contest weekends. Contesting virtually together using Club Score Processor has really reinvigorated our local club. HamDash is now taking contest weekends to the next level for all who would like to join in the fun! –N3FJP
Configuring HamDash in N3FJP Software
Install and run the N3FJP software program for the upcoming contest. If the contest is mode specific, click Settings > Setup and select the correct mode.
Start your browser, navigate to HamDash and select the contest you are going to participate in. (Optional)
Check and update your Contest Upload Parameteres. In N3FJP Software, click Settings > Web Contest Upload > Other Online Sites and update the fields on the bottom of the form.
By the HamDash (N3FJP Scoreboard) option on the upper left, click Test. On the form you should see a 200: OK message and on the HamDash site a welcome message in the QSO feed at the bottom. Aside from leaving HamDash enabled, that is all you have to do. Just operate the contest normally and enjoy HamDash!
You can enter test QSOs from the main form. You will see them in the QSO feed on HamDash, but your score won't update from 0 if the contest isn't active.
Using HamDash
Select a contest at the HamDash site. Contest dates are generously provided by WA7BNM Contest Calendar.
As you enter a QSO, your score will flash green and update almost immediately. While the contest is active, you will see additional columns including the graphics, rates and optionally frequencies. The list will constantly update and sort by score and then call sign.
You can display everyone, just your club and or categories of interest and quickly see your individual and club totals. More details in Settings.
Click on a call sign to see statistics including multipliers totals, last 10 locations worked, overall rate, etc.
Click the magnifying glass to search for any call sign in the list.
A QSO feed will display at the bottom and update as QSOs are entered. If operating assisted, you will see frequencies and you can click on the feed to copy the frequency to your Windows clipboard. You can then paste the copied frequency into the Call field of N3FJP software and press Enter to quickly tune to the frequency (with rig interface enabled).
Settings
At the HamDash site, click the gear button for your settings. Your settings will persist in your browser from one contest to the next unless you clear your browser's cache.
When you enter your call sign, a star will be placed beside your call in the list (that only you see), so that it is easier for you to find. You can select different display themes, enter your call and select a club for the other club members to be indicated by a club graphic.
If you plan to operate Non-Assisted, select the option for Non-Assisted view, which will hide the frequency displays. Use the Theme drop down to select a color scheme of your choice.
Enabling the Show Short Contests option will add contests two hours and less to the contest calendar list.
Select your club from the club drop down list to have a club icon display beside other club members. If you don't see your club in the drop down list, simply click Test to do an upload with your club in the Club Name field. Even if you and your buddies aren't in an official club, you can make one up on the fly.
Adding Your Club
Clubs are added to the club list automatically when an upload occurs from the logging software. To specify your club in N3FJP Software, click Settings > Web Upload Contest Status > Other Online Sites. On the form that appears, enter your club. Then click Test in the upper left for HamDash. Your club will now appear on the HamDash site.
Inactive clubs will be hidden from the list, but will reappear once they become active again.
Filters
Back on the leader board, on the right hand side you can select the Filter button to set various filtering criteria, including clubs and categories. You can choose to display members from multiple clubs if you like. Not in a club? That's fine too! Just leave the club filters off to see all who are participating. Everyone is welcome!
Graphics
On the HamDash display, graphics include:
Icon

Description
Your station
Member of your club
No QSOs in the last 60 minutes
No QSOs in the last 20 minutes
20 min rate is 35% higher than their 60 min rate
Holding a steady rate
20 min rate is 35% lower than their 60 min rate
Fastest 20 minute QSO rate on the filtered scoreboard
Station is running a frequency
(appears after logging 6 consecutive QSOs on the same frequency)
QSO Count Recognition Milestones
Clubs like NEMARC recognise members that achieve a personal QSO count milestone. We brought that model to HamDash for the following milestones in each contest:
| Rank | Total QSOs |
| --- | --- |
| Diamond | 2,000 QSOs |
| Platinum | 1,500 QSOs |
| Gold | 1,000 QSOs |
| Silver | 750 QSOs |
| Bronze | 500 QSOs |
| Copper | 300 QSOs |
| Iron | 100 QSOs |